ROOM OVERVIEW
1 Bedroom Deluxe Spa Cottage
This cottage is suitable for two adults. Rates range from $150-$190. During peak season, each night costs $225. The air-conditioned cottage includes a seating area with fireplace, sofa seating and a flat-screen TV with entertainment kit. The cottage is equipped with a kitchenette, 200-litre fridge and microwave. The bathroom comes with a shower and spa bath. Guests can make use of tee/coffee making facilities and private BBQ. A very romantic cottage.
SEND US AN AVAILABILITY REQUEST
Reserve Now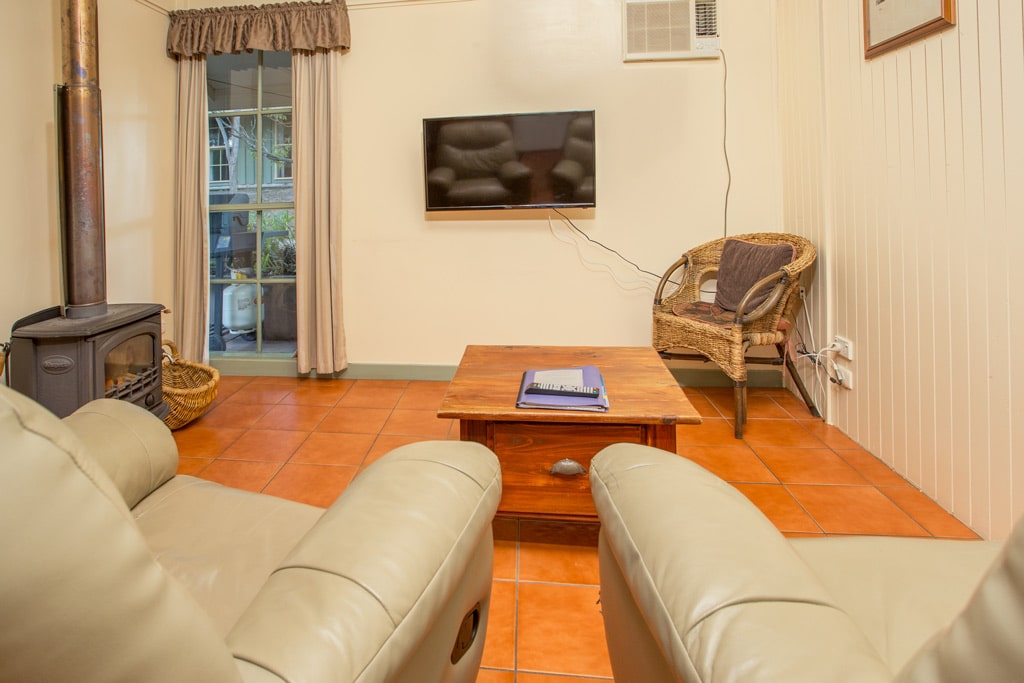 KALIMNA WOODS
1 Bedroom Deluxe Spa Cottage
Queen Size Bed (Includes Linens & Towels)

Wood Fire (Wood supplied Daily)
OUTDOOR VERANDA
Talk to the animals!
Do you know that you can pat possums!!! (be careful ) every night at Kalimna Woods on dusk we feed over 12 possums. The possums eat a mixture of fruit and vegies. You can watch them feed / fight and jump through the trees with great skills. If you are lucky you will see 1 of our 3 sugar gliders coming down for a crust of bread, you can also feed the sugar gliders if you are quick enough.
At 9 am every morning the birds are waiting in the trees for a feed in front of the office. Spectacular colours and beautiful whistling a must to start the day.
AVAILABLE APARTMENTS
Discover More Suites